Choosing a care home
At Elder, we understand that the circumstances might not be right for everyone to get live-in care in Kensington. Maybe there isn't enough room to accommodate another person or the home would require too many adaptations for their needs.
No matter the reason, we'd still like to help and we know we're in a good position to do so. Good care is available out there and we want everyone to make informed decisions about their later life care.
Your loved one has every right to be supported and cared for in the way they choose, which is why we've found the best residential options in the area for you.
The top care homes in Kensington
If you're considering residential care for your parents or loved ones in Kensington, the following eight options may be worth considering.
The Kensington Care Home
40/46 Ladbroke Road, Kensington, London W11 3PH
Offering both long and short-term stays, The Kensington Care Home is situated in a residential area not far from Holland Park. Catering for people over the age of 65, The Kensington Care Home has 53 single rooms, all with ensuites, and offers a variety of care options, including respite and convalescent care.
Suitable for dementia, Alzheimer's, Parkinson's, stroke and physical disability.
Alan Morkill House
88 St Mark's Road, London W10 6BY
A purpose-built care home not far from Ladbroke Grove and Portobello Market, Alan Morkill House has 49 single rooms, 35 of which have private facilities, and all are fully accessible. For residents over the age of 65.
Suitable for dementia and Alzheimer's.
Ellesmere House
9 Nightingale Place, London SW10 9NG
A modern care home in the centre of Chelsea, Ellesmere House offers residential and day care for people over the age of 55, across 70 single rooms, all of which have private facilities.
Suitable for dementia, Alzheimer's, sensory impairment.
Princess Louise of Kensington Nursing Home
Pangbourne Avenue, North Kensington, London W10 6DH
Set amidst landscaped gardens, the Princess Louise of Kensington Nursing Home offers residential and palliative care to people over the age of 65. There are 46 single rooms, 39 of which have private ensuite facilities.
Suitable for dementia, Alzheimer's, sensory impairment and physical disability.
St Wilfrid's Care Home
29 Tite Street, Chelsea, London SW3 4JX
Set in grounds next to the Chelsea Embankment, St Wilfrid's offers respite, convalescent and residential care across 44 single rooms, all fully equipped with private ensuite facilities.
Suitable for people over the age of 65.
Chelsea Court Place
234a Kings Road, Chelsea, London SW3 5UA
Located on the King's Road, Chelsea Court Place is a residential home with 15 boutique apartments, all with their own private ensuites. Specialising in dementia care, the home caters for younger adults as well as elderly people.
Suitable for dementia and Alzheimer's.
Turning Point Hazel House
67 Warwick Road, London SW5 9HB
Located on Warwick Road in the heart of Earls Court, Turning Point offers support and rehabilitation to adults between the ages of 18 and 65, who have mental health problems. There are 10 rooms available.
Suitable for old age and mental health problems.
St Teresa's Home
40/46 Roland Gardens, London SW7 3PW
Situated in a peaceful residential area, yet close to local amenities, St Teresa's Home has 26 single rooms, 23 of which have private ensuites. The home specialises in dementia care for people over the age of 65.
Suitable for dementia and old age.
Realising your elderly loved one requires extra, full time care isn't easy and when there seems to be so many options, it might be overwhelming to know where to start.
At Elder, we are always on hand to offer the best impartial advice, every day between 8 am and 8 pm to help you decide on the best care solution for the your loved one.
Get in touch with one of our expert care advisors today.
Frequently asked questions
What should I look for in a care home?
There are lots of residential care homes out there offering a wide range of services. Choosing a care home will therefore depend upon your loved one's specific needs. Things to research include the cost of care, the standard of accommodation, the activities they offer residents and, of course, the overall quality of care. This includes cleanliness, staff training and the staff-to-resident ratio.
Once you have identified a shortlist of suitable care homes, it is important to arrange a visit. A care home might look ideal and boast good reviews, but your loved one must feel comfortable in the surroundings.
While you might think residential care is your only option, there are cost-effective alternatives. For example, a live-in carer can provide 24-hour support and companionship that allows your loved one to remain in their own home.
Contact us on 0333 920 7214 to find out more.
How do I find a dementia carer?
If your loved one is living with dementia, they could greatly beenfit from having a live-in carer. By using our online postcode finder, we can connect you with carers working within a reasonable distance from you. You will then be able to personalise your search by informing us of your loved one's unique needs.
You will be able to contact professional, specialist carers that are trained and fully equipped to deal with the challenges associated with offering compassionate and fit-for-purpose dementia care.
Our team will carry out an assessment, enabling us to completely personalise your care options, and you will be informed and fully supported every step of the way. We will always be reachable if you have any concerns.
Do care home staff get to know about residents' lives and experiences?
Ideally, yes. Good residential care homes should, of course, employ fully trained staff who provide bespoke care for each resident and take an active interest in their lives and experiences.
However, the reality is that in a care home setting the staff may have the best intentions but might not have the time to provide the personal attention that each resident deserves. This is why many families consider one-to-one home care for their loved one.
A live-in carer provides practical support 24/7 but also offers valuable companionship. Over time, the live-in carer even becomes part of the family, forming a close personal bond with their care recipient.
What does live-in care provide?
Live-in care provides many benefits to your loved one, but what exactly that encompasses is varied. Before a live-in carer moves in with your relative, a care plan is written up that details exactly how they wish to benefit from this new relationship.
Maybe they only need a companion, or some help with chores, but they still love to cook. Or perhaps they struggle to look after their pet, to get out and see friends, but they're very particular about how they clean their own house. No matter where support is needed, it's important to determine boundaries so a harmonious pairing can blossom.
But where live-in carers can make the most difference is for those living with long term health conditions, such as dementia or cancer. The continuity of care, the familiar environment and the expert training and experience our carers have, all help those who require more complex care to remain at home.
To get more information on live-in care, call one of our friendly care advisors today.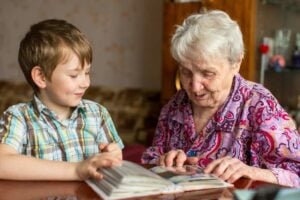 The true cost of care – everything you need to know Discover the true cost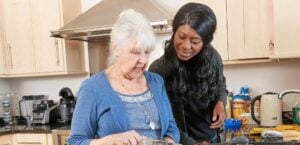 Live-in care Vs Other types of care If your loved one has reached a stage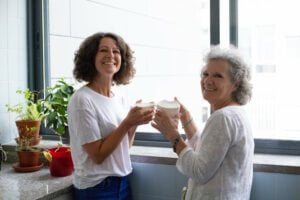 A Guide for Caregivers – Everything You Need to Know If your loved one needs