Choosing a care home
Live-in care in Essex might not be suited to everybody who lives there. Your loved one may not live in a house that is big enough to accomodate a home carer, or perhaps the idea of it just isn't their cup of tea.
Even so, Elder would still like to help you make the best later life care choice for your loved one because despite the abundance of information out there, you might not have time to filter through it all.
That's why we've summed up our top ten care home picks in Essex to ensure that not only do you make the right choice for your family, but you don't get flustered trying to piece it all together either.
The top care homes in Essex
If you're considering residential care for your parents or loved ones in Essex, the following eight options may be worth considering.
Kathryn Court
84 Ness Road, Shoeburyness, Southend-on-Sea, SS3 9DH
Care home in the centre of town. Registered for 52 people aged 50 or older in 48 single and 2 shared rooms.
Suitable for people with Alzheimer's disease and other forms of dementia, old age, physical disability and sensory impairment.
Alderwood Care Home
39 Essex Hall Road, Colchester, CO1 1ZP
Large privately owned purpose-built care home for 65 elderly people aged 65 and over. All single en-suite rooms. Lift. Service users receive nursing, residential and dementia care. Offers palliative care, respite care, day care and convalescent care.
Suitable for those living with dementia and old age.
Firstlings
7 The Street, Heybridge, Maldon, CM9 4NB
32-bed home for service users with dementia or old age owned by Sohal Healthcare Ltd. All single rooms, 25 of which have en-suite facilities. Suitable for people aged 65 and over. Situated close to shops and public transport.
Suitable for those living with dementia and old age.
The Laurels
130/134 Church End Lane, Runwell, Wickford, SS11 7DP
Offers residential care for up to 32 service users in the categories Dementia and Old Age. 27 of the 32 single rooms have an en-suite WC. Admission for service users aged 75 to 100. Services include day care and palliative care.
Suitable for those living with dementia and old age.
Corner Lodge
185/193 Meadow Way, Jaywick Sands, Clacton-on-Sea, CO15 2HP
Purpose-built home offering secure environment for service users with dementia. Registered for 48 people aged 65+ in 44 single and 2 shared rooms. 37 of the rooms have an en-suite WC.
Suitable for people with dementia, old age, physical disability and sensory impairment.
The Corner House
67/69 Wash Lane, Clacton-on-Sea, CO15 1DB
Large care home offering residential care for up to 57 service users aged 65 and over. The home has 47 single rooms and 5 shared rooms. 40 of the rooms benefit from an en-suite WC.
Suitable for learning disability, dementia, mental health condition, old age, physical disability and sensory impairment.
Little Wakering House
367/369 Little Wakering Road, Little Wakering, Rochford, Southend-on-Sea, SS3 0LB
Small care home specialising in the care of people with a wide range of mental health issues. Specialist care categories include anorexia and bulimia, self-harming, schizophrenia and challenging behaviour. Not suitable for wheelchairs.
Suitable for service users between the ages of 18 and 65.
Baycroft Great Baddow
Molrams Lane, Chelmsford, CM2 7TL
64-bed care home with nursing for people aged 55 and over. All single rooms with en-suite facilities.
Suitable for people with dementia, Parkinson's disease, sensory impairment and stroke as well as old age and physical disability.
Realising your elderly loved one requires extra, full time care isn't easy and when there seems to be so many options, it might be overwhelming to know where to start.
At Elder, we are always on hand to offer the best impartial advice, every day between 8 am and 8 pm to help you decide on the best care solution for the your loved one.
Get in touch with one of our expert care advisors today.
Frequently asked questions
How will my loved one settle into a care home?
It's completely natural to be apprehensive when a loved one is moving into a care home. You will no doubt have questions about how well they will settle in and what will be done to make them feel at home.
Experienced and compassionate residential care home staff will have lots of ways to help your loved one settle in, so you should speak to them about your concerns. There also things you can do, too, however. Ensure your loved one has precious photos and any favourite mementos or keepsakes in their new room to make it as homely as possible.
If you're worried about your loved one settling into a home, perhaps live-in care might be a better option. In this case, he or she remains in his or her own home and it's the carer who will fit around their pre-established routine.
To learn more about how these two types of care compare, read our guide care homes vs. live-in care.
What activities do live-in carers support?
In short, all of them! One of the main advantages of live-in care is that your loved one will be supported in all their day-to-day activities, ensuring that they stay as active and as independent as possible.
For example, the carer will support your loved one if they want to visit friends and family, go to the shops, pursue their hobbies and pastimes, or enjoy a spontaneous outing.
While residential care homes might offer a planned programme of activities, these may not suit every resident. With in-home care, your loved one can keep doing the things they love, while enjoying 24/7 practical support tailored to their individual needs. Contact us on 0333 920 7214 to find out more about live-in care.
What kind of care do nursing homes provide?
Nursing homes provide a comprehensive package of care for elderly residents. This may include personal care such as help with bathing and eating, social care, companionship and even medical care for those who need help and support 24 hours a day.
If your loved one requires a high level of care but is unwilling to enter a nursing home, home care can provide a viable alternative that allows them to stay in their own home, surrounded by familiar possessions and enjoying the support of friends and family.
Private care is often more cost-effective than a nursing home and it provides bespoke care that is personally adapted to your loved one's specific needs.
Elder live-in care: How are carers selected?
Carers who will be looking after your loved one in their own home are carefully vetted and checked, and are recruited not only for their qualifications and training, but also for their empathy and real-world caring experience.
Other important attributes include that the carer speaks excellent English and is good at communicating with people who may find hearing or speaking difficult. Unlike care homes, which have large staff teams working in shifts, live-in care is a very personalised service, with the cared-for person at the centre of the daily routine and activities.
As well as the vetting process, carers must provide two references and are also assessed to see whether they need any further training in order to meet the needs of the particular individual they will be caring for.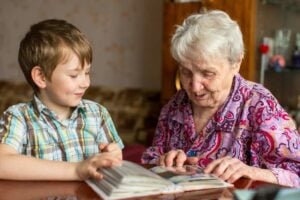 The true cost of care – everything you need to know Discover the true cost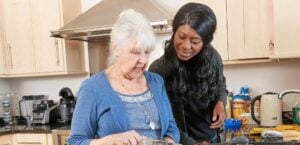 Live-in care Vs Other types of care If your loved one has reached a stage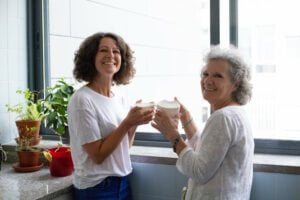 A Guide for Caregivers – Everything You Need to Know If your loved one needs