Choosing a care home
Here at Elder, we understand that not everyone is in the right situation to receive live-in care. Perhaps they require more complex care, or maybe there simply isn't enough space in their home.
Whatever the reason, we'd still like to help. Your loved one deserves the kind of care that is not only suitable but also something they would choose themselves.
That's why we've found the best residential options across the East Midlands for you.
The top care homes across the East Midlands
If you're considering residential care for your parents or loved ones in the East Midlands region, the following options may be worth considering.
The Old Vicarage
Stretton Road, Clay Cross, Chesterfield, S45 9AQ
Owned and operated by Adept Care Homes Ltd and set in 2 acres of grounds, the Old Vicarage offers residential care for service users aged 60+, There are 40 single rooms with en-suite facilities.
Suitable for dementia and old age.
Derby Heights Care Home
Rykneld Road, Littleover, Derby, DE23 4BU
Situated in the village of Littleover just outside Derby, this residential facility is operated by Avery Healthcare Group. There are 74 rooms with en-suite facilities including a number of companion suites designed for couples. Care provided for those aged 60 and over.
Suitable for Dementia, old age, physical disability and sensory impairment.
Highfields Care Home
Station Road, Edingley, Newark-on-Trent, NG22 8BX
Owned and operated privately by Brighterkind, this residential and nursing home also offers palliative care. Set in the Nottinghamshire countryside, the home offers 41 single rooms and 4 couples suites. 29 of the rooms are en-suite and the facility is intended for the over 40s.
Suitable for old age, physical disability and sensory impairment.
Churchfield Care Home
Off Churchfield Drive, Rainworth, Mansfield, NG21 0BJ
Set in a quiet Nottinghamshire village, Churchfield is owned and operated by Four Seasons Health Care. This residential facility offers specialist nursing care and provides care for those aged over 65. Accommodation is offered in 60 rooms, 22 of them with en-suite facilities.
Suitable for dementia and old age care.
Bernadette House
The Old Vicarage, South Park, Lincoln, LN5 8EW
Situated in its own grounds, this private residential home is operated by DES Healthcare Ltd. Accommodating residents aged 50+ in 33 single rooms and one shared room, Bernadette House offers 28 rooms with en-suite WC.
Suitable for old age, Dementia and Alzheimer's care.
Rose Lodge Care Home
35a Church Street, Market Deeping, Peterborough, PE6 8AN
Situated in the heart of a Lincolnshire market town, this Country Court Care residential home provides care for the over-55s. All 43 rooms have en-suite facilities and the town centre is accessible.
Suitable for Dementia and old age care.
Orchard Manor View
34 Robert Hall Street, Leicester, LE4 5RB
Situated in a residential area of Leicester, this facility is independently owned and managed by Orchard Manor View Ltd. Residential care and support is offered to the over-55s in 22 en-suite single rooms, together with 4 rooms intended for couples.
Suitable for dementia, stroke, and old age care.
Alder House Care Home
172a Nottingham Road, Nuthall, Nottingham, NG8 6AX
With 60 en-suite rooms this purpose built residential facility also offers dementia and respite care. Another Avery Healthcare Group property, Alder House provides care for the over 65s, including those living with Alzheimer's and cancer.
Suitable for Alzheimer's, Dementia, and old age care.
Realising a loved one requires extra, full-time care isn't easy, and when there seem to be so many options throughout the East Midlands, it might be overwhelming to know where to start.
At Elder, we are always on hand to offer the best impartial advice, every day between 8 am and 8 pm to help you decide on the best care solution for your loved one.
Get in touch with one of our expert care advisors today.
Frequently asked questions
Care Homes: can residents choose their routine?
Most care homes promote their service users' independence and choice in the way they live, but it is difficult for individuals to enjoy the routine they prefer because they have to fit in with the needs of other residents. Your loved one may have to compromise on their routine and also follow the health and safety rules of the care home.
If your relative is anxious to maintain their autonomy but needs 24-hour care, live-in care could be the answer. Not only is this less disruptive than having to go into a care home, but they would also be able to exercise choice in every aspect of life and continue to keep to the routine they are used to close to family, friends and neighbours.
How to choose a Care Home?
If live-in care is not a suitable option for your loved one, you may like to take a look at care home options. While selecting the best home for your family member will be a highly personal choice, there are some things you should bear in mind when comparing homes in your area. Online reviews can be a valuable resource when researching homes but exercise caution when using anonymous sources.
Private room
Will your loved one be distressed sharing a room? If a private room is essential, you should make this a priority.
Bathrooms facilities
If a private bathroom is a must, you should make this known from the start when selecting and contacting care homes.
Activities
Some homes offer extensive activity programmes, which can help your loved one to settle in and may help improve his or her quality of life. Ask about activities and find out what the residents do to pass their time in the home.
Do care home staff get to know about residents' lives and experiences?
Ideally, yes. Good residential care homes should, of course, employ fully trained staff who provide bespoke care for each resident and take an active interest in their lives and experiences. However, the reality is that in a care home setting the staff may have the best intentions but might not have the time to provide the personal attention that each resident deserves.
This is why many families consider one-to-one live-in care for their loved one. A live-in carer provides practical support 24/7 but also offers valuable companionship. Over time, the live-in carer even becomes part of the family, forming a close personal bond with their care recipient.
If you would like to know more about live-in care options, please contact us to speak with one of our care specialists.
Care homes: Is food prepared on the premises?
Food in care homes should be prepared on the premises in order to ensure quality and freshness, but standards do vary.
Good nutrition is very important and so if you are considering a care home, make sure that you consider food quality, choice and standards when researching and visiting potential accommodation. Some care homes often have their own chefs, and meals can be of restaurant quality, but there are many homes where standards fall far short of this.
If you are concerned about your loved one's nutritional or dietary requirements being met, then you may want to consider a live-in care option, rather than a care home. In this instance, a carer can be on-hand to shop for and cook the meals that your relative wants and needs, without having to consider the pressure of mass production or the dietary requirements of many different residents.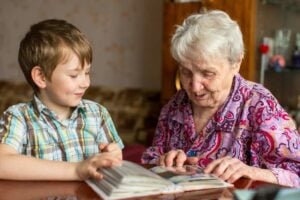 The true cost of care – everything you need to know Discover the true cost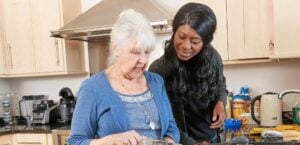 Live-in care Vs Other types of care If your loved one has reached a stage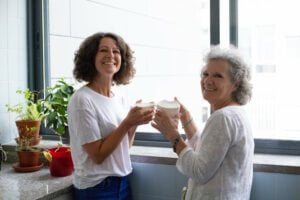 A Guide for Caregivers – Everything You Need to Know If your loved one needs