Find your care home
Although the vast majority of us would prefer to get the support we need in the home we love, for some it simply isn't possible. Whether a result of space restrictions for your live-in carer's sleeping quarters, or lack of in-home modifications.
Even if this is the case, we still want to be able to help. That's why our team of care planning experts have pulled together a list of their top eight care homes in Devon.
And, it's why we're still here for you. If you have any questions about full-time residential care, paying for care, or want to double-check whether live-in care could be an option, all you have to do is follow the link below, enter a few details and book an appointment with one of our advisors.
The top care homes in Devon
Here we've selected our top residential care homes across the historic county of Devonshire.
Summerleaze Residential Home
Summerleaze, 79-81 Salterton Road, Exmouth, EX8 2EW
Summerleaze Residential Home is a care home located in the Exmouth area, ideal for those who are looking for a care home in Exeter or surrounding area, but want a bit more of rural location. Providing beds for a maximum of 31 residents, the period home provides less acute support. For those with more extensive needs, the community nurse is on-hand.
Suitable for: elderly care, dementia care
Ridgeway Residential Home
Salcombe Hill Road, Sidmouth, EX10 8JR
Ridgeway Residential Home is a non-acute residential home providing elderly care for those over the age 65. Also available for those with a physical or mental disability, the space inside the grounds has been designed with independent mobility in mind. There is a passenger lift, an accessible garden and access to a large balcony. All rooms are en suite.
Suitable for: elderly care.
Moorgate Residential Home
Bedford Bridge, Magpie, Yelverton, PL20 7RZ
Located in the heart of Dartmoor, the Moorgate Residential Home provides living space for up to 21 residents. Moorgate focuses on residential care for those over the age of 65 and is available to those living with dementia. With close proximity to nearby Tavistock, there are plenty of local facilities available for residents to take advantage of. The home doesn't have any on-site trained medical but such support is provided by community health services.
Suitable for: Elderly care
Pinewood Nursing Home
33 Victoria Place, Budleigh Salterton, EX9 6JP
Pinewood Nursing Home is medium-sized facility situated in the beautiful coastal village of Budleigh Salterton. With capacity for up to 35 people, the home provides nursing care from trained medical professionals for those with more acute requirements. The nearby beach provides a great destination for coastal walks.
Suitable for: Elderly care, dementia care, nursing care
Oak House
Chard Street, Axminster, EX13 5EB
Situated in idyllic Axminster, Oak House is private residential and nursing home that caters for up to 17 people. A broad range of on-site facilities and communal space are at the disposal of those living there. Suitable for those living with dementia, including Alzheimer's, the staff at Oak House are able to provide specialist personal care.
Suitable for: elderly care, personal care, dementia care, Alzheimer's care
Nutley Lodge
43 Sherford Road, Plymouth, PL9 8DA
Nutley Lodge Care Home is a 27-bed care home located in the city of Plymouth. With secluded grounds, the Lodge provides a serene environment in which dementia care, elderly care and nursing care are all available. The care home also accepts those with physical disabilities. It's situation, with easy access to transport links, makes it a great choice for visiting families.
Suitable for elderly care, dementia care, nursing care.
Ridge House Residential Care Home
Church Street, Morchard Bishop, Crediton, EX17 6PJ
The quaint Ridge House Residential Care Home is a small care facility located in Crediton. With just 15 beds, it provides elderly care for those over the age of 65, as we as those living with a physical disability. The period features and serene location provide the perfect backdrop to really get the most out of later life
Suitable for: elderly care, physical disabilities
Plymbridge House
3 Plymbridge Road, Plympton, Plymouth, PL7 4LD
Converted from a former vicarage, Plymbridge House has an excellent reputation locally, from both doctors, residents and their families. And, although it can be incredibly difficult to get hold of bed, those that do have an excellent standard of care at their disposal. Situated in a desirable neighbourhood, the care home cares for those with a broad range of care needs.
Suitable for: personal care, dementia care, elderly care
Can't find an exceptional care home in Devon?
Deciding on a care home is a big decision, and it's one that you often have to take in strenuous circumstances.
For something that you may feel needs to be arranged quickly, it can take an awful amount of effort. We can help.
Follow the link below to book a time in with one of our care planning team. We can advise you on accessing the funding you're entitled to, as well as offering practical advice on navigating the care system.
Frequently asked questions
Can my loved one still get attendance allowance if they live in a care home?
Attendance Allowance is a government-funded benefit payable to elderly people with a disability so severe that they need assistance with daily chores. Home care assistance doesn't necessarily need to be in place in order to claim it.
Your loved one will continue to receive Attendance Allowance for the first four weeks of residential care, if they qualify for the benefit. After the initial four-week period, they may still qualify for the benefit, provided that they are self-funding their place in the care home.
Where your loved one's local Trust is paying for, or contributing towards, their care home fees, then Attendance Allowance is not normally payable.
Attendance Allowance may be payable to your loved one after their 12th week of care, where their Trust has contributed to the first 12 weeks, whilst your loved one is waiting for their property to be sold.
Check out our guide for more on the cost of care.
Live-in care: what you need to know
If you have decided to hire specialist live-in carers for the elderly for your loved one, there are some preparations to make for when the carer moves in.
In addition to what is required by your relative, you will also need to ensure that there is a separate bedroom for the live-in carer. Ideally, as well as a bed and a place to store clothes there will also be a comfortable chair and TV. The carer will need their own private space where they can relax, although they will be happy to share kitchen and bathroom facilities with your elderly loved one.
Internet access is useful so that the carer to keep in touch with Elder and with other professionals involved in the care of your loved one. If your relative is a car owner, it is a good idea to insure the vehicle for the carer who can then use it to chauffeur your loved one.
What can you take into a care home?
The rules governing what residents can and cannot take with them when they move into a dedicated care home vary wildly according to each individual establishment, so check and double check before committing to moving your loved one's belongings.
Most homes encourage residents to decorate their rooms with personal possessions, including items of furniture. Do check on the home's policy and be sure to take details of the room's dimensions to avoid costly errors. Space is obviously limited, but even the smallest of care homes should encourage your loved one to bring treasured possessions, photographs and keepsakes with them.
Some homes allow complete room decorations, including changing the paint colours and repapering the walls.
Some care homes will even allow pets, but once again, check before making a firm commitment to avoid disappointment and upset.
Elder live-in care: how are carers selected?
Carers who will be looking after your loved one in their own home are carefully vetted and checked, and are recruited not only for their qualifications and training, but also for their empathy and real-world caring experience.
Other important attributes include that the carer speaks excellent English and is good at communicating with people who may find hearing or speaking difficult.
Unlike care homes, which have large staff teams working in shifts, live-in home care is a very personalised service, with the cared-for person at the centre of the daily routine and activities.
As well as the vetting process, carers must provide two references and are also assessed to see whether they need any further training in order to meet the needs of the particular individual they will be caring for.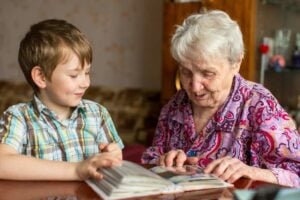 The true cost of care – everything you need to know Discover the true cost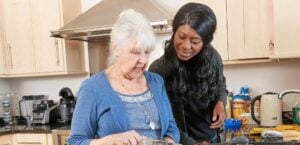 Live-in care Vs Other types of care If your loved one has reached a stage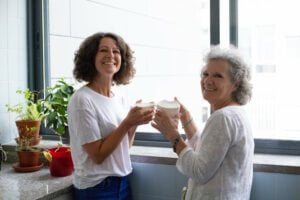 A Guide for Caregivers – Everything You Need to Know If your loved one needs