Choosing a care home
Live-in care in Cumbria might not be suited to everybody who lives there. Your loved one may not live in a house that is big enough to accomodate a home carer, or perhaps the idea of it just isn't their cup of tea.
Even so, Elder would still like to help you make the best later life care choice for your loved one because despite the abundance of information out there, you might not have time to filter through it all.
That's why we've summed up our top ten care home picks in Cumbria to ensure that not only do you make the right choice for your family, but you don't get flustered trying to piece it all together either.
The top care homes in Cumbria
If you're considering residential care for your parents or loved ones in Cumbria, the following eight options may be worth considering.
Chichester Hall
Dick Trod Lane, Skinburness, Wigton CA7 4QZ
Chichester Hall caters for up to 20 residents 60 years old and over. 16 rooms are single, and 2 can be shared; all have an ensuite WC. Residents have access to a garden and have the option to bring their own furniture.
Suitable for those with dementia, Alzheimer's and mental health conditions.
Amathea Care Centre
Newlands Lane, Workington CA14 3JG
Open to those aged 55+, Amathea Care Centre offers general residential care facilities, alongside specialist care for those living with dementia. 40 ensuite rooms are available for both long-term and respite stays, and residents can access a private garden.
Suitable for dementia, elderly care, physical disability, stroke, visual impairment, epilepsy, cancer care, hearing impairment/deafness, Parkinson's disease, Crohn's disease, eating disorders, Huntington's disease, multiple sclerosis and challenging behaviour.
Holmewood Residential Care Home
Holmewood, Lamplugh Road, Cockermouth CA13 0DP
Catering for the elderly, the landscaped gardens with seating areas and communal lounges are available to residents of Holmewood, and their visitors. The facility has 24 single rooms and one shared, all with ensuite facilities, a passenger lift, and links with the local community.
Suitable for elderly residents aged over 65.
Croft Avenue Care Home
Wordsworth Street, Penrith CA11 7RJ
Once a private residence, Croft Avenue care home offers long-term, respite and convalescence stay options to those aged over 65. Particular emphasis is placed on mealtimes, where special requests and needs are accommodated. In addition to English, some staff also speak French and Polish.
Suitable for dementia, stroke, Huntington's disease and the elderly aged over 65.
Barrock Court Care Home Ltd
Barrock Park, Southwaite, Carlisle CA4 0JS
Situated in woodland and recently refurbished, Barrock Court caters for long-term residential, respite, and end-of-life care for up to 28 residents aged 18+. All accommodation is on the ground floor and consists of 28 single, ensuite rooms. In addition to English, some staff also speak German or Polish.
Suitable for Alzheimer's, dementia, old age, physical disability, sensory impairment, verbal/physically abusive behaviours.
Hames Hall
Gote Brow, Cockermouth CA13 0NN
Once a Victorian country mansion, Gote Brow retains scenic views, landscaped gardens and a walled kitchen garden. It offers long-term, respite and palliative care to residents aged 65+. All rooms have internet access, TV and phone points.
Suitable for Alzheimer's, dementia, and general elderly care.
Winters Park Care Home
Pategill, Penrith CA11 8RG
Palliative, respite, convalescent, long-term and day care are all offered at this specially designed facility. Residents can make use of landscaped gardens, a library, and regular arts and craft sessions. Various meal choices are offered each day, together with an evening snack service.
Suitable for residents aged over 65.
Kingston Court Care Home
Newtown Road, Carlisle CA2 7JH
Kingston Court is a modern three-storey care home with lift and wheelchair access and 74 single, ensuite rooms. Long-term, palliative, day, respite and convalescent care programs are available to those aged 50+, and delivered with a person-centred approach.
Suitable for Alzheimer's, dementia, and the elderly.
Realising your elderly loved one requires extra, full time care isn't easy and when there seems to be so many options, it might be overwhelming to know where to start.
At Elder, we are always on hand to offer the best impartial advice, every day between 8 am and 8 pm to help you decide on the best care solution for the your loved one.
Get in touch with one of our expert care advisors today.
Frequently asked questions
Do you get to meet prospective carers before committing to live-in care?
One of the biggest queries people have when considering live-in care is how carers are matched with clients and what happens if the pairing does not work.
At Elder, we understand why this is such a high priority given that carer and client will be living in the same property and may spend considerable periods of time together, but understanding this means we place an equally high priority on getting the match right – if not higher.
We go to great lengths to choose exactly the right carer to match your relative's personality and to provide the greatest possibility of a healthy relationship being formed. If, however, your loved one does experience any issues or the relationship simply fails to work out, a trial period means that the choice of live-in carer can be changed with ease if the situation demands that this needs to be done.
To learn more about 24-hours of care at home, read our helpful guide.
What other options can I consider before moving my loved one into a care home?
Live-in care should always be considered before moving your loved one into a care home, as it can be a less stressful, more personalised and more cost-efficient means of ensuring one-to-one care.
If your loved one has always dreaded the idea of a care home, live-in care is the ideal alternative, offering tailored care and companionship in their own home.
Even if they've never considered it, this option is worth looking into, as it can reward both you and your relative with higher standards of care and lower costs than a care home.
Choosing home care could allow you to avoid stressful moves for your loved one. There will be no time-consuming searches for care homes – which can often fall below the standards you require anyway. Instead, opt for high-quality care in the most comfortable setting possible – your loved one's own home.
Do you have to pay for care if you have dementia?
If your loved one is living with dementia, you still need to pay for their care treatment. The care recipient may be entitled to some degree of support, but this will vary according to individual circumstances.
The guiding rule is that anyone living with dementia will need to pay for their care in a similar way to any individual requiring care. We have produced a guide which helps to provide impartial and transparent information into the cost of different types of elderly care, as this can be a complex area for families navigating the topic for the first time.
Do live-in carers prepare food?
Live-in carers are perfectly placed to prepare exactly the sort of food that your loved one wants and needs. They can get to know their specific dietary requirements, even if they are complex, along with their specific likes and dislikes.
A live-in carer can also focus their food preparation on the nutritional value of the meals they make, ensuring that your relative is well catered for, both in terms of taste and quality and their healthy living requirements.
Of course, your relative may still love to cook or want to maintain their control over food preparation in their own home. If this is the case, the individual service offered by a live-in carer means they will happily stand aside if that is what is required as part of the live-in care package provided.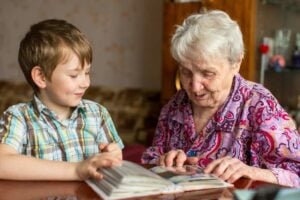 The true cost of care – everything you need to know Discover the true cost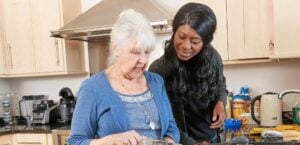 Live-in care Vs Other types of care If your loved one has reached a stage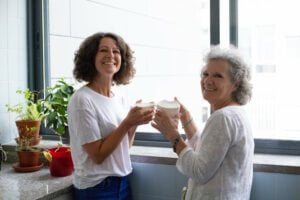 A Guide for Caregivers – Everything You Need to Know If your loved one needs