Choosing a care home
At Elder, we understand that not everyone is in the right circumstance to receive live-in care in Cornwall, whether that is due to issues of space or that the home requires too many adaptations to suit your loved one.
No matter the reason, we'd still like to help and we know we're in a good position to recommend the best care, even if it happens to be in a care home.
Your loved one has every right to be supported and cared for in the way they deserve, which is why we've found the best residential options in the area for you.
The top care homes in Cornwall
If you're considering residential care for your parents or loved ones in Cornwall, the following eight options may be worth considering.
Trewartha House
Carbis Bay, St Ives, TR26 2TQ
Trewartha House care home with nursing accommodates up to 37 service users aged 55 plus in 29 single and 4 shared rooms. 3 rooms benefit from having an en-suite WC.
Suitable for mental health conditions and dementia.
Morovahview
1 Bar View Lane, Hayle, TR27 4AJ
Morovahview care home is registered for up to 16 older service users aged 60 plus. There are 14 single rooms and 1 shared room. 10 rooms have en-suite toilet facilities. Convalescent care, respite care and day care are all available.
Suitable for dementia, mental health conditions and old age.
Redannick House
Redannick Lane, Truro, TR1 2JP
Situated within five minutes of the centre of Truro, Redannick House is registered for 41 service users aged 55 and over. Accommodation is in single rooms arranged over four wings. There are no en-suite facilities.
Suitable for dementia and mental health conditions.
Kimberley Court
Kimberley Close, Crantock Street, Newquay, TR7 1JG
This purpose-built home in a quiet part of Newquay is registered for up to 36 people aged 65 and over. All accommodation is in single rooms, each with an en-suite WC. Services include day care, respite care, trial stays, convalescent care and long-term care.
Suitable for old age and dementia.
St Anne's
Plougastel Drive, Off Callington Road, Saltash, PL12 6DJ
Catering for 33 service users aged 65 and over, Anchor's St Anne's is a purpose-built home offering convalescent care, respite care, long-term care and trial stays. There are 33 single rooms, all with en-suite WC.
Suitable for dementia and old age.
Godolphin House Care Home
Godolphin House, 42 Godolphin Road, Helston, TR13 8QF
This residential care home can accommodate up to 31 service users aged 60 and over. There are 31 single rooms, 26 of which have an en-suite WC. Respite care, day care, palliative care and convalescent care are provided.
Suitable for detention under Mental Health Act, mental health conditions, dementia, eating disorders, no medical intervention, physical disability, sensory impairment and old age.
Langholme
Arwenack Avenue, Falmouth, TR11 3LD
Langholme care home in Falmouth is registered for 40 service users. Accommodation is in single rooms with en-suite WC facilities. Day care can be provided at the home.
Suitable for dementia and old age.
Fairholme Nursing Home
Roskear Road, Camborne, TR14 8DN
This 60-bed refurbished care home with nursing can accommodate up to 60 service users aged 50 and over. All 60 rooms are singles, and 15 of them have the advantage of an en-suite WC. Palliative care, respite care and convalescent care are provided.
Suitable for old age, younger adults, sensory impairment and physical disability.
Make sense of your options
Realising your elderly loved one requires 24-hour care isn't easy and when there seems to be so many options, knowing where to start may be unclear.
At Elder, we are always on hand to offer the best impartial advice, every day between 8 am and 8 pm to help you decide on the best care solution for the your loved one.
Get in touch with one of our friendly care advisors today.
Frequently asked questions
Who are Elder?
Here at Elder, we offer our clients a genuine alternative to residential care. With around 97% of older people claiming that they would prefer not to move into residential care, we identified a need for a different form of care package – one that allows older people to enjoy all of their home comforts, but with the knowledge that someone is on hand, day and night, to offer help and support whenever it's needed.
Why should your loved one have to leave their home and lifestyle behind once they need assistance to remain in their home? With the help of one of our highly-trained, experienced and empathetic live-in care workers, your elderly relative can enjoy their home comforts without being uprooted from the home they hold so dear.
Does live-in care support those with cancer?
If you have a family member who has cancer, probably the last thing they would like would be to have to move away from home and into a care home. You may be anxious that there is always someone available to help when your loved one needs anything, and with live-in care from Elder you can have the confidence that there is a dedicated one-to-one carer on call day and night.
A live-in carer will get to know how best to support your family member to cope with their symptoms and will be able to liaise with the health professionals involved in their care. Being cared for by a trained and experienced live-in carer in the comfort of their own home gives your loved one added peace of mind and will greatly improve their quality of life, whatever stage in the disease process they are facing.
Are care homes more expensive than live-in care?
Every individual is different, and the cost of a care home will vary according to your loved one's unique needs. Other factors that can affect care home fees include the location and the facilities they provide, but care homes can work out at as much as thirty per cent more expensive than live-in care.
In addition to being more affordable than a care home, there are many other advantages to 24-hour care at home. One major advantage is that the live-in carer can focus exclusively on your relative's needs rather than having a number of elderly people all needing care and attention. Your family member will also be able to remain in a familiar environment where they are happy rather than having the worry of moving into a strange institution.
What is dementia care?
If you have a loved one who is living with dementia, you will understand the importance of dementia care. The condition can bring many different challenges, and every individual is unique, so having a one to one carer who gets to know your family member well and can understand their emotional needs is a real advantage.
People with dementia can become confused, upset and sometimes aggressive when they can no longer make sense of their environment. This is why moving an elderly person into a care home can cause them so much anxiety. If you feel that your relative is no longer safe living alone because their condition can cause them to act inappropriately or put themselves in danger, a live-in carer from Elder will be able to support them to enjoy the best quality of life they can in the safe and comfortable environment of their own home.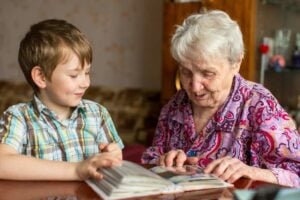 The true cost of care – everything you need to know Discover the true cost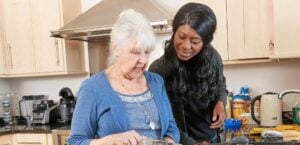 Live-in care Vs Other types of care If your loved one has reached a stage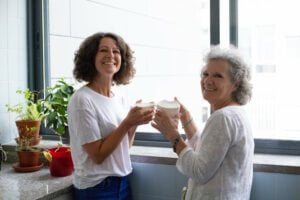 A Guide for Caregivers – Everything You Need to Know If your loved one needs