Choosing a care home
At Elder, we understand that not everyone is in the right circumstance to receive live-in care in Cambridge, perhaps due to issues of space or that the home requires too many adaptations to suit your loved one.
No matter the reason, we'd still like to help and we know we're in a good position to to do so.
Your loved one has every right to be supported and cared for in the way they deserve, which is why we've found the best residential options in the area for you.
The top care homes in Cambridge
If you're considering residential care for your parents or loved ones in Cambridge, the following seven options may be worth looking further in to.
Waterbeach Lodge
Ely Road, Waterbeach, Cambridge CB25 9NW
Run by Scimitar Care Hotels plc, this property aims to deliver a hotel experience, with a capacity for up to 65 residents.
Suitable for those living with dementia and Alzheimer's.
Orchard House
191 High Street, Sawston, Cambridge CB22 3HJ
Orchard House is a 35 bed purpose-built home, owned and run by Sanctuary Care Ltd and located on Sawston High Street.
Suitable for those living with dementia.
Cambridge Manor
33 Milton Road, Cambridge CB4 1UZ
Cambridge Manor specialises in nursing care and care for older people living with dementia and memory loss. Situated on the outskirts of the city centre, this is a TLC Care Ltd property with capacity for up to 88 residents.
Suitable for those living with dementia and Alzheimer's.
Bramley Court Care Home
Chivers Way, Histon, Cambridge CB24 9AH
Owned and operated by Carebase Ltd, Bramley Court provides residential care, nursing home care and dementia care. Capacity for up to 72 residents.
Suitable for those living with dementia.
St Georges Court
Russell Street, Cambridge CB2 1HT
St. Georges Court has 76 beds for adults aged 65+ and offers care for those with dementia needs. Located close to the town centre, just off of Hills Road.
Suitable for those living with dementia and Alzheimer's.
Brook House
45 Seymour Street, Cambridge CB1 3DJ
Brook House is a 35 bed care home close to Cambridge city centre. Divided into four units over two floors, Brook House is owned and operated by Excelcare Holdings.
Etheldred House
Clay Street, Histon, Cambridge CB24 9EY
Etheldred House is a purpose-built care home for adults aged 65+ in need of long term and respite care including those living with dementia. Situated in the village of Histon, Cambridge city centre is approximately five miles away. The care home has 4 units and a capacity for up to 82 residents.
Suitable for those living with dementia and Alzheimer's.
Realising your elderly loved one requires extra, full time care isn't easy and when there seems to be so many options, it might be overwhelming to know where to start.
At Elder, we are always on hand to offer the best impartial advice, every day between 8 am and 8 pm to help you decide on the best care solution for the your loved one.
Get in touch with one of our expert care advisors today.
Frequently asked questions
Would a care home support those with visual impairments?
Care homes vary in their admissions criteria, but some of them are able to accept people with visual impairments. This should be made clear in the home's brochure, or on its website.
However, do think very carefully before encouraging your visually-impaired loved one to leave their own home. Adapting to a completely new environment, particularly one that will be filled with unfamiliar sounds and smells, can be extremely disorientating, even for someone with perfect sight. If staff numbers are not high enough, your elderly relative may have to spend long periods of time coping alone, which they are likely to find difficult.
With live-in care, your relative can remain in their own familiar surroundings, making it much easier for them to find their way around. The carer will help and support them every step of the way, encouraging them to lead a full and active social life in the process.
What does live-in care provide?
live-in carers for the elderly provide companionship, along with a wide range of other benefits. The carer will help with household chores, such as cooking, cleaning, doing the laundry and taking care of pets, but the carer's duties don't end there. Helping your loved one to maintain relationships with others, the live-in care worker can also encourage them to keep active and healthy, with a stimulating social life.
Even if your loved one is struggling to cope in their home due to ill-health, an Elder carer can be sourced to provide additional levels of support, such as assistance with bathing, dressing and personal hygiene. Our carers can provide dedicated dementia care, respite care and can assist with a range of medical problems, such as Parkinson's disease, cancer or sensory impairment.
Does live-in care support those with pets?
One of the major problems that elderly people can face is having to be separated from their beloved pets if they have to go into a care home. With live-in care from Elder, your loved one can continue to enjoy the company of their animals, and if they now find looking after them difficult, their live-in carer will happily do this for them.
In addition to the emotional comfort a cat or dog may provide for your family member, the health benefits of pet ownership are also well recognised. Live-in care makes it possible for your elderly relative to continue enjoying the company of their pets without having to worry about the practical aspects of caring for them.
How can I help my loved one maintain their independence?
Independence can mean many different things to different people. But for most, it is the power to make decisions about our day-to-day lives. When an older person moves into residential care or a care home, this often comes with a loss of independence. The schedule and routines of a care home are set to meet the needs of as many residents as possible. Likewise, meals and opportunities to see friends or attend social events can be curtailed.
However, by choosing live-in care for your loved one, you can help safeguard their independence and overall quality of life. Having dedicated, one to one care means they can eat their own food, cooked in their own kitchen and can continue to be accessible and available to neighbours and friends. Independence may be a state of mind, but studies show, it is essential to enjoying a good quality of life.
Read our guide on Mobility and Independence for more advice.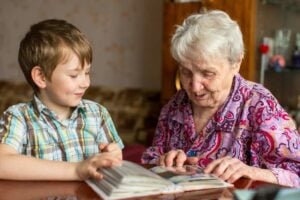 The true cost of care – everything you need to know Discover the true cost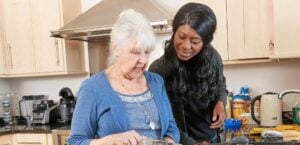 Live-in care Vs Other types of care If your loved one has reached a stage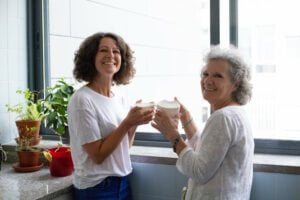 A Guide for Caregivers – Everything You Need to Know If your loved one needs