Choosing a care home
At Elder, we understand that the circumstances might not be right for everyone to get live-in care in Bristol. Maybe there isn't enough room to accommodate another person or the home would require too many adaptations for their needs.
No matter the reason, we'd still like to help and we know we're in a good position to do so. Good care is available out there and we want everyone to make informed decisions about their later life care.
Your loved one has every right to be supported and cared for in the way they choose, which is why we've found the best residential options in the area for you.
The top care homes in Bristol
If you're considering residential care for your parents or loved ones in Bristol, the following eight options may be worth considering.
Penhill Care Home
81 Station Road, Shirehampton, Bristol BS11 9TY
A converted family house that offers both respite and long-term care for those over 60 years of age with elder care needs. The home can accommodate 17 residents.
Suitable for old age.
Bernash Care Home
544-546 Wells Road, Whitchurch, Bristol BS14 9BB
Located in the village of Whitchurch and opened in 1982. A detached residential property which houses a maximum of 23 residents It's operated by R & R Care Homes Ltd.
Suitable for those dementia care, residential care, respite and day care needs.
The Lodge at Oakhill
College Park Drive, Westbury-on-Trym, Bristol BS10 7QD
A purpose-built re-enablement and physical rehabilitation centre catering to people aged 45+. It specialises in post-operative rehabilitation, with the aim of returning its residents to home life. It has a gym as well as on-site physiotherapists and occupational therapists.
Suitable for those living with a mental health condition, physical disability or sensory impairment.
Carlton Mansions
8 Apsley Road, Clifton, Bristol BS8 2SP
Located in Clifton, this converted period town house offers mainly en-suite rooms for up to 26 patients. Strong marketing emphasis on fine furnishings and decor.
Suitable for those requiring residential and dementia care.
Stokeleigh
19 Stoke Hill, Stoke Bishop, Bristol BS9 1JN
Located in the suburb of Stoke Bishop, this refurbished Victorian townhouse has a number of communal areas and run by Hartford Care Ltd.
Suitable for those living with dementia and Alzheimer's.
Horfield Lodge
Kellaway Avenue, Bristol BS7 8SU
A non-profit care home managed by Methodist volunteers as part of the MHA (Methodist Homes Association). It has 54 places in total with dual occupancy rooms. A visiting chaplain provides pastoral care.
Suitable for those living with dementia and old age.
Bamfield Lodge Care Home
1 Bamfield, Whitchurch, Bristol BS14 0AU
Located in South Bristol, the property is comprised of three floors with two offering living rooms and communal spaces. It has a rear garden and outdoor seating spaces. It is one of many Brighterkind properties.
Suitable for those requiring residential, nursing and dementia care.
Ashbourne House
2 Henleaze Road, Henleaze, Bristol BS9 4EX
A small residential care home for older people in the Westbury Park, Henleaze, Redland and Stoke Bishop areas. The property has a lift enabling wheelchair access around the property.
Suitable for those living with dementia, eating disorders, mental health condition, old age, physical disability or sensory impairment.
Realising your elderly loved one requires extra, full time care isn't easy and when there seems to be so many options, it might be overwhelming to know where to start.
At Elder, we are always on hand to offer the best impartial advice, every day between 8 am and 8 pm to help you decide on the best care solution for the your loved one.
Get in touch with one of our expert care advisors today.
Frequently asked questions
Live-in Care: what you need to know
If you have decided on live-in care for your loved one, there are some preparations to make for when the carer moves in.
In addition to what is required by your relative, you will also need to ensure that there is a separate bedroom for the live-in carer. Ideally, as well as a bed and a place to store clothes there will also be a comfortable chair and TV. The carer will need their own private space where they can relax, although they will be happy to share kitchen and bathroom facilities with your elderly loved one.
Internet access is useful so that the carer to keep in touch with Elder and with other professionals involved in the care of your loved one. If your relative is a car owner, it is a good idea to insure the vehicle for the carer who can then use it to chauffeur your loved one.
Read our guide A Day in the Life of a Live-in Carer to find out more.
Care Homes: can residents choose their routine?
Most care homes would claim to promote their service users' independence and choice in the way they live, but it is difficult for individuals to enjoy the routine they prefer because they have to fit in with the needs of other residents. Your loved one may have to compromise on their routine and also follow the health and safety rules of the care home.
If your relative is anxious to maintain their autonomy but needs 24-hour care, live-in care could be the answer. Not only is this less upsetting and disruptive than having to go into a care home, but they would also be able to exercise choice in every aspect of life and continue to keep to the routine they are used to close to family, friends and neighbours.
What's the difference between care homes and live-in care?
Live-in care allows care recipients to benefit from high-quality, dedicated care whilst maintaining their freedom to live as they wish. There is none of the upheaval associated with moving into a care home, and the care recipient's independence is supported as far as possible.
Additionally, live-in care is a far more cost-efficient alternative to a care home, whilst providing the same degree of access to highly-qualified healthcare professionals and the services that the care recipient needs, tailored to their unique situation.
With a live-in carer providing around-the-clock care, the live-in care solution offers practical support and a real sense of security and comfort whilst offering both the elderly care recipient and their family members peace of mind that they are being supported with all the services that they need.
For more information, check out our Care homes vs. Live-in care guide.
Live-in Care: how does the relationship work on a daily basis?
For many older people, remaining in their own home with a live-in carer helps them to retain a better quality of life and can be more cost-effective than a residential home.
If you believe your loved one would benefit from live-in care, then it's reassuring to know that the relationship with a carer works like a friendship but with the added care and support your loved one needs. Your loved one will be matched with their carer based on their personality and interests, so they can enjoy shopping or a movie together.
Care plans are always drawn up with the utmost tact and discretion, so the carer always knows when they're required. If you're interested in finding high-quality live-in care for your loved one based on a comfortable and caring relationship, contact us today for more information.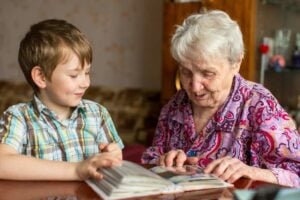 The true cost of care – everything you need to know Discover the true cost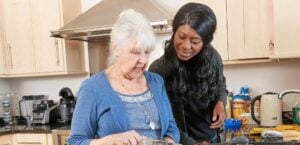 Live-in care Vs Other types of care If your loved one has reached a stage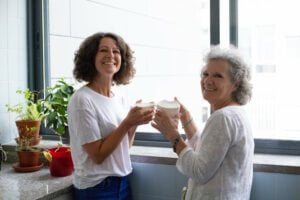 A Guide for Caregivers – Everything You Need to Know If your loved one needs