Choosing a care home
Here at Elder, we understand that not everyone is in the right position to receive live-in care in Battersea. Perhaps they require more complex care, or maybe there simply isn't enough space in their home.
Whatever the reason, we'd still like to help. Your loved one deserves the kind of care that is not only suitable but also something they would choose themselves.
That's why we've summed up our top care home picks in Battersea to ensure that you make the right choice for your family member, without spending hours trying to decide on the most appropriate care option.
The top care homes in Battersea
If you're considering residential care for your parents or loved ones in Battersea, the following options may be worth considering.
Meadbank Care Home
12 Parkgate Road, Battersea, London SW11 4NN
A Bupa-run assisted living facility in the borough of Wandsworth. It offers short-term stays and longer-term living options. Laundry and meals are included in the price but residents pay extra for such things as specialist nurses, eye care, physiotherapy and chiropody.
Suitable for dementia, post-op, Parkinson's, palliative care.
Albert Suites at Battersea Place
73 Albert Bridge Road, Battersea, London SW11 4D
A small nursing home offering long-term care and short-stay nursing care. It has 28 individual rooms. It is owned by the international retirement community operator, LifeCare Residences.
Suitable for palliative care and post-op.
Eden Court
313 Battersea Park Road, London SW11 4LU
A dementia, respite, residential and nursing home which sits on a site with retirement apartments. It is a member of the Middlesex-based Cinnamon Care Collection Group.
Suitable for dementia, respite, nursing and residential care.
George Potter House
130 Battersea High Street, Battersea London SW11 3JR
A nursing home in the borough of Wandsworth. It is located on a residential road and is built over two floors. Visitors are welcome between 8am and 8pm.
Suitable for dementia and nursing care.
Ellesmere House
9 Nightingale Place, London SW10 9NG
This facility was opened in 2008 and offers dementia, nursing and residential care. There is an on-site caféand activity room.
Suitable for dementia, nursing, residential, physical disabilities and end-of-life care.
Collingwood Court Care Home
Nelsons Row, Clapham, London SW4 7JR
One of many Bupa-run care homes. The facility offers short-term stays and longer-term living options.
Suitable for dementia, respite, nursing and residential care.
Laurels Nursing Care Centre
70 Union Road, Clapham, London SW4 6JT
Situated on a residential road in Clapham, this is a three-floor facility offering care for the elderly frail and people living with memory loss conditions.
Suitable for dementia and frailty.
Chelsea Court Place
234a Kings Road, Chelsea, London SW3 5UA
This is an assisted living facility that also offers nursing care options for up to 15 people at a time.
Suitable for long-term, respite, convalescent and dementia care.
Realising a loved one requires extra, full-time care isn't easy, and when there seems to be so many options in Battersea and the surrounding area, it might be overwhelming to know where to start.
At Elder, we are always on hand to offer the best impartial advice, every day between 8 am and 8 pm to help you decide on the best care solution for your loved one.
Get in touch with one of our expert care advisors today.
Frequently Asked Questions
Care Homes: Can residents choose their routine?
Most care homes promote their service users' independence and choice in the way they live, but it is difficult for individuals to enjoy the routine they prefer because they have to fit in with the needs of other residents. Your loved one may have to compromise on their routine and also follow the health and safety rules of the care home.
If your relative is anxious to maintain their autonomy but needs 24-hour care, live-in care could be the answer. Not only is this less disruptive than having to go into a care home, but they would also be able to exercise choice in every aspect of life and continue to keep to the routine they are used to close to family, friends and neighbours.
How to choose a care home?
If live-in care is not a suitable option for your loved one, you may like to take a look at care home options. While selecting the best home for your family member will be a highly personal choice, there are some things you should bear in mind when comparing homes in your area. Online reviews can be a valuable resource when researching homes but exercise caution when using anonymous sources.
Private room
Will your loved one be distressed sharing a room? If a private room is essential, you should make this a priority.
Bathrooms facilities
If a private bathroom is a must, you should make this known from the start when selecting and contacting care homes.
Activities
Some homes offer extensive activity programmes, which can help your loved one to settle in and may help improve his or her quality of life. Ask about activities and find out what the residents do to pass their time in the home.
Do care home staff get to know about residents' lives and experiences?
Ideally, yes. Good residential care homes should, of course, employ fully trained staff who provide bespoke care for each resident and take an active interest in their lives and experiences. However, the reality is that in a care home setting the staff may have the best intentions but might not have the time to provide the personal attention that each resident deserves.
This is why many families consider one-to-one live-in care for their loved one. A live-in carer provides practical support 24/7 but also offers valuable companionship. Over time, the live-in carer even becomes part of the family, forming a close personal bond with their care recipient.
If you would like to know more about live-in care options, please contact us to speak with one of our care specialists.
Care Homes: Is food prepared on the premises?
Food in care homes should be prepared on the premises in order to ensure quality and freshness, but standards do vary.
Good nutrition is very important and so if you are considering a care home, make sure that you consider food quality, choice and standards when researching and visiting potential accommodation. Some care homes often have their own chefs, and meals can be of restaurant quality, but there are many homes where standards fall far short of this.
If you are concerned about your loved one's nutritional or dietary requirements being met, then you may want to consider an alternative elderly care option, rather than a care home. In this instance, a carer can be on-hand to shop for and cook the meals that your relative wants and needs, without having to consider the pressure of mass production or the dietary requirements of many different residents.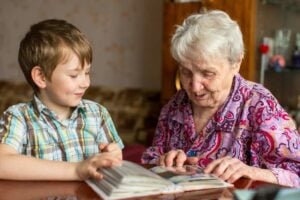 The true cost of care – everything you need to know Discover the true cost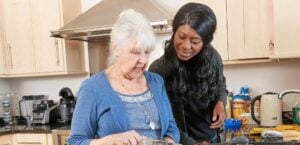 Live-in care Vs Other types of care If your loved one has reached a stage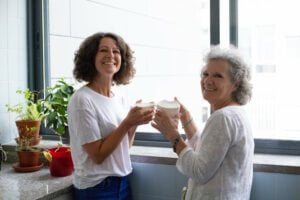 A Guide for Caregivers – Everything You Need to Know If your loved one needs