Choosing a care home
Live-in in care Balham might not be suitable for everyone in the area. Your loved one may not live in a house with enough space to accommodate a home carer, or perhaps the idea of it just isn't their cup of tea.
Even so, we would still like to help you make the best later life care choice for your loved one, and while there is plenty of information available out there, you might not have time to filter through it all.
That's why we've summed up our top care home picks in Balham to help ensure that not only do you make the right choice for your family, but you don't get flustered trying to piece it all together either.
The top care homes in Balham
If you're considering residential care homes in Balham for your parents or loved one, the following options may be worth considering.
Bhakti Shyama Care Centre
1 Balham New Road, London SW12 9PH
As a specialist branch of the Abbey Total Care Group, the privately-owned Bhakti Shyama Care Centre provides care facilities for up to 25 members of the Gujarati community.
Suitable for the elderly, for short or long stays, for general elderly care, nursing care, dementia, Alzheimer's disease and physical challenges.
Trinity Court
165/167 Trinity Road, London SW17 7HL
Operated by Clearstone Care Ltd, Trinity Court offers nursing care for a maximum of 50 residents in mostly single rooms.
Suitable for elderly care, dementia, and mental health needs.
Abbeyfield Richard Cusden
6/8 Aldrington Road, London SW16 1TH
Abbeyfield Richard Cusden, operated by the Abbeyfield Society, provides residential care on a not for profit basis to those aged over 65 years.
Suitable for general elderly care, those living with Alzheimer's and dementia.
Brendoncare Ronald Gibson House
236 Burntwood Lane, Tooting, London SW17 0AN
Brendoncare Ronald Gibson House is operated by the Brendoncare Foundation and situated in the grounds of Springfield Hospital. Built especially for the project, 56 residents receive nursing care on a permanent or temporary (rehabilitation) basis via not-for-profit provision.
Suitable for nursing and elderly care aged 60+, respite, convalescent, and palliative care, dementia and Alzheimer's.
St Mary's Care Home
3 Tooting Bec Gardens, Streatham, London SW16 1QY
St. Mary's Care Home is an independent, privately-owned care facility offering residential, nursing and specialist dementia care with 84 beds available.
Suitable for general elderly care and dementia care, both long and short term stays.
Heritage Care Centre
30 Gearing Close, Tooting, London SW17 6DJ
72 single, ensuite rooms with WiFi are available for both long and short term, residential and nursing care residents at the Heritage Care Centre, part of the Maria Mallaband Care Group.
Suitable for residents living with dementia, Alzheimer's, stroke, cancer, challenging behaviour, epilepsy and hearing impairments.
Collingwood Court Care Home
Nelsons Row, Clapham, London SW4 7JR
Collingwood Court is an 80 bed facility operated by Bupa Care Homes and offering both long term and short term stays in single, ensuite rooms.
Suitable for age 65+, long term residential, respite, Alzheimer's, Parkinson's Disease and dementia.
Kirkstall Lodge
56 Kirkstall Road, Streatham, London SW2 4HF
Kirkstall Lodge, owned and operated by CareTech Community Services Ltd., provides sheltered housing and independent living training for up to 8 residents with learning challenges.
Suitable for adults with learning disabilities.
Realising your elderly loved one requires extra, full time care isn't easy and when there seems to be so many options in Balham, it might be overwhelming to know where to start.
At Elder, we are always on hand to offer the best impartial advice, every day between 8 am and 8 pm to help you decide on the best care solution for the your loved one.
Get in touch with one of our expert care advisors today.
Frequently Asked Questions
How can I tell if a care home is safe?
Care homes haven't had the best press recently, so understandably, many people feel nervous about the prospect of consigning their loved one to residential care.
Obviously, a poorly-run care home is never going to advertise that fact, so it's important to have a plan of action when considering options for your loved one's long-term care needs.
Always visit a prospective care home in person, so that you can see for yourself how it is run. Ideally, you should get recommendations from people that you know, or spend some time doing online research to find out as much as you can about each establishment.
Perhaps avoid making an appointment and visit the home spontaneously, this way you can see how the home operates on a regular basis. If possible, try to speak to some of the residents to discover whether the home might be suitable for your loved one.
What is home care?
Home care is the broad umbrella term for providing care for your parent or loved one in their own home or your home, rather than in a care home environment. It usually refers to 24-hour care, delivered one-to-one by a trained carer.
Many care recipients find home care a preferable option to a care home for several reasons. Moving to a new and unfamiliar environment is never easy and for older people living with dementia, for example, the strain can be detrimental.
Also, at home, your older relative can enjoy an independent lifestyle – they can continue to eat their favourite meals and see their friends and neighbours easily.
Having a dedicated carer at home also means that if they need some help, would like a cup of tea or just want someone to chat to, that person is on hand, right away. Home care denotes a higher standard of care overall.
Would a care home support those with Parkinson's disease?
Parkinson's disease is a complex condition that needs specialist care, particularly in the later stages. Some care homes are able to support people with Parkinson's disease, but due to a high staff turnover in many homes, they are unable to offer the continuity of care the patient needs.
Live-in care can support a person with the condition to live in their own familiar environment, and having one-to-one care from a dedicated caregiver means that their individual needs and wishes are well understood.
Sometimes people with Parkinson's disease need a great deal of extra time to accomplish a task, and this can be difficult in a care home where there are other residents waiting for attention.
The timing of medication is also very important, and a dedicated live-in carer will be able to ensure that it is taken at the optimum time for the best results.
Who can I speak to about arranging care?
If you feel that your loved one needs help and assistance from a carer, it can be useful to make a list of their requirements in the first instance – do they need help with the housework, for example, or are they likely to need assistance with bathing and dressing? This will help you to establish the level of care that they require.
You can contact our friendly and helpful customer care advisors seven days a week, between 8am and 8pm on 0333 920 9150.
They will talk you through the various options, with absolutely no obligation and, if you feel that you would like to proceed with an Elder live-in carer, we can arrange for live-in care in as little as 24 hours.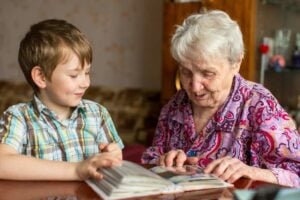 The true cost of care – everything you need to know Discover the true cost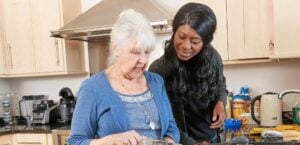 Live-in care Vs Other types of care If your loved one has reached a stage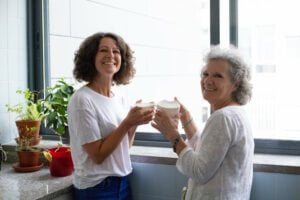 A Guide for Caregivers – Everything You Need to Know If your loved one needs